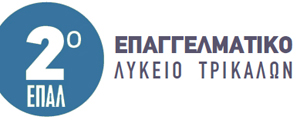 Welcome to 2nd EPAL of Trikala
2nd EPAL of Trikala is a Day Vocational Upper Secondary School in Trikala which is a modern city in central Greece. The school was established in 1988. Every year more than 300 students attend it and more than 60 teachers work here.
Attendance is of 3-year duration and includes Α, Β and C grades. Pursuant to Law 4186/2013, a post-secondary cycle of studies, the «Apprenticeship Class» is established. The «Apprenticeship Class» is provided for Vocational Upper Secondary Schools (EPAL), and enrollment is optional for holders of a school leaving certificate and for holders of a degree of a second cycle of studies at EPAL.

There are five sectors in 2nd EPAL of Trikala:
- Sector of Construction Projects
- Administration and Economy Sector
- Sector of Agronomy, Technology, Foodstuffs and Nutrition
- Applied Arts Sector
- Health Care & Wellness Sector

Our organization has participated in many European programs (Comenius, Leonardo da Vinci, Erasmus+) and it is open to new partnerships and european projects. Click and learn more ...
Feel free to contact us:
| | | |
| --- | --- | --- |
| | | Tel : 00302431025299 |
| | | FAX : 00302431037508 |
| | | email : |
&nbsp
Υλοποίηση και Συντήρηση του Διαδικτυακού Τόπου:
Αβδελίδης Ευάγγελος, Αβδελίδου Ελένη
© Copyright 2001 - 2019